Chennai- Yelagiri Bike Trip [Apr 9, 10 2005]
Trip Log- Chennai Yelagiri on Apr9-10.
Total km covered = 575km in 2days.
14 hr on road.
Route Chennai- Sriperumbudur- Vellore- Vaniyampadi- Yelagiri
An unusual weekful of rain in hot and humid chennai stirred up some matter in my brain to plan a bike ride for the forthcoming weekend in the middle of a busy cubicle-work schedule. I ve biked a lot in Western Ghats during college-edu and consider weather patters a lot for bike rides. A cool day is my perfect day, whereas a hot dusty day will send me searching for my TV-remote than road. I could afford to choose because even the best of scenic locations is just a day's ride from my home in Coimbatore.
Murphy did strike me with a request ,"Prathap, I think you can work on Saturday, can't you?"
"No, Got some other plans" was my reply. Generally, I wont reject a work request.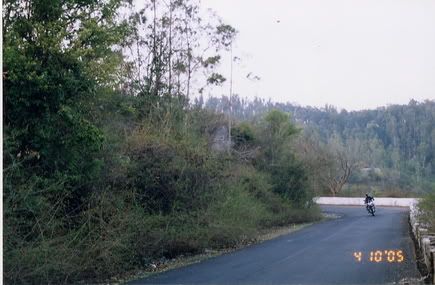 With my last serious bike ride coming way back in Aug15, 2004 with Chennai Pugs to Pondy, I was unusually excited about the bike ride to Yelagiri hills. Having done many trips, my packing didnt take much time. I did it the night before.
My room mate [non- Pug, but owns a P150dtsi V1] and myself on Classic P150 set out at 6am from Chennai- IT Highway. I was startled by continuous thunders and had to wear my jacket. But the drizzle stopped within 30min, but it cooled down the temperature for the day's ride.
We took the Tambaram bye-pass road to Ponamalle and carried on towards Sriperumbudur. Some early morning buses from Bangalore caused lot of traffic, not to mention the workers traffic to Auto manufacturing plants in and around Sriperumbudur. [This place has got Hyundai second biggest manufacturing plant in the world, MMSC race track and some small factories]
I caugh a glimpse of a very good looking Hyundai Elantra ! It didnt have the standard tail lights [which are present in cars on sale] It was more like Octavia's notchback. Single boot opening and rear glass as a single piece. Infact the car looked more like a WRC hatch without stickering and roll cage. It was heading towards hyundai factory, with a korean guy in full suit. So i eliminate the idea of the car being modded to somones taste. The finish was so good that it cud be a test car from Europe/Korea before Elantra was planned to be launched.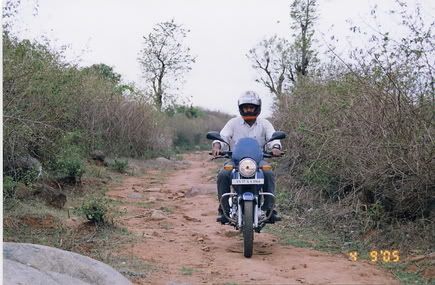 A tea break and a small visit to Rajiv Gandi memorial [beautiful lawn and stone carvings]. I was really taken aback by the greenery of the place. A rarity in chennai. Headed towards Vellore [James's hometown]
The road is fully complete with 4 laning work and 6 in some places.And i did nt have to search for potholes and just enjoy the scenery. Infact i never went past 65kmph in any of my road trips.
The sun came out to scare me and dehydrate me. Further the traffic chaos of Vellore [after an empty piece of road] didnt motivate me either. We continued towards Vaniyambadi for Lunch. A cool lassi in between was very refreshing.
Myself and my fellow rider didnt share any incentive to race each other and I dictated the rules of a bike ride to him in advance. He is a first timer tourer.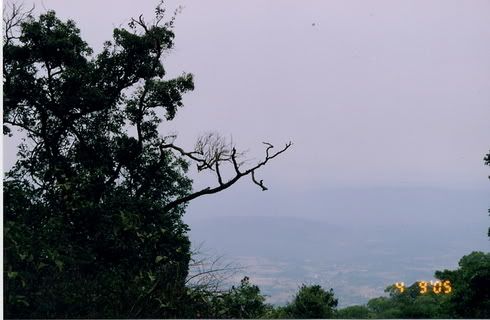 I miss the nilgiris a lot, which was my training ground to hone my biking skills. To this day I like riding curvaceous roads than arrow straight highways. Infact i sing to keep myself awake on straight highways. The lure of hill-biking was driving me crazy as against my fellow rider interest to catch the scenery. Infact i rushed a bit too much to the hills.
Unfortunately, the hill road is basically a zig zagger all the way upto the top. With a few bends in between. There were approx 14 hairpin bends and some moderate intensity curves. Not really tough on a classic pulsie though, i was disappointed a bit. the hairpin bends did have lot of gravel making fast turns impossible. But i wont dismiss the idea of a fast-road scratching holiday here. further the traffic was also very les and not many ppl are realy interested in coming /giong to Yelagiri than going to ooty/kodai/munnar.
Before i could fully enjoy the corners I was already at the top of the hill and searching fo a place to stay. After a bit of searching, we finally settled for an expensive stay at Hotel Hills [Rs700 for 24hrs].
We went on a small trek to Swamimalai-the highest peak in Yelagiri hills, very bad i cudnt include it in the list of peaks my bike has captured, but atleast it waited patiently at the "base camp".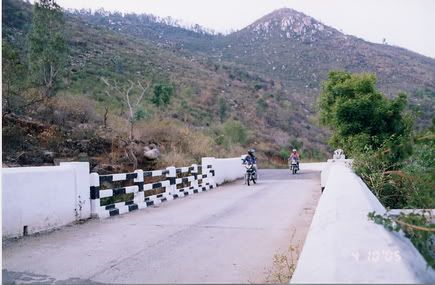 No mobile phones at Yelagiri meant a buzzfree environment.
Further we went around enquiring about real estate prices and investment opportunities in real Jim Rogers style "Investment Biker" !
Jim Rogers- has done 2 round-the-world trips on his honda cb750 bike. Wrote a couple of Management and pleasure books called "investment biker" and "adventure capitalist". He also made a hell lot of money by investing in most of the countries he rode through.
I almost mistook a golden retriever dog to be a leopard/panther. I was laughing at myself for my mistake.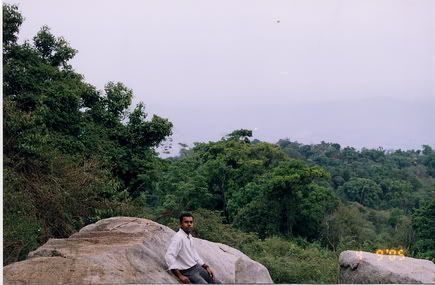 A bus full of college students made sure that we dont get a noise free environ. But conditions changed soon.
The next day [Sunday] we started on a ride to the foothills and back to enjoy the hil ride in early morning breeze and fog. While I was enjoying the scenery, my bike rolled off the side stand and the disk brake level broke off...! I was very upset that i cudnt enjoying late braking manoeuvers and peg scratching. luckily a half of the lever was in good condition and brought me safe back to chennai.
We also indulged in good amount of photography in all the S bends and hairpins. Not sure when my next hill ride will be.
We also visited a lake nearby and went on a small ride through the neighbouring village backroads. We also did a bit of off roading and enjoyed the locales. Honey is widely available and cost Rs80 for 3/4litre. [bottled honey in cities costs 4 times as much]
Further, we planned to start early and ride comfortably towards chennai. It was more of a rigmarole, just twist throttle and point the handle in the right direction. We were heading away from a good place towards work and dreary city life.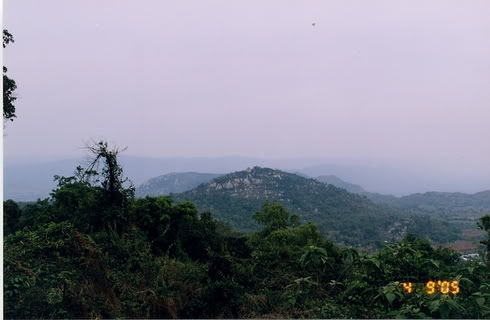 This ride served as a pressure release valve after nearly 4 months of slogging in workplace [my colleagues will say NO].
Hoping to have many more in the coming days.